I take pride in being realistic in my abilities, my goals, and my confidence. I live my life with this knowledge: I am probably not smarter than you, I am probably not stronger or faster than you, but I make sure that I do my best to work harder than you. However, working harder than someone else doesn't necessarily translate into doing better than them, or even doing better than mediocre levels of success.
I think that most people are driven to succeed. They want to provide for themselves and their family, and feel proud of their accomplishments at the same time. Myself included. However, we also want to create balance for important aspects of our lives like family, friends, love, and extracurricular activities like sports and hobbies.
Given that we usually use 8-10 hours a day for "work," how can we maximize what we accomplish within those hours?
Throughout my years of attempted greatness, there has been one thing that people tell me to do, every single time without fail: focus. It usually comes in a few different flavours: hustle, stop slacking off, be relentless, focus on one thing and one thing alone. You get my drift.
Every time I hear this, I cringe and remember why I don't succeed at a lot of things: too much aimless focus. I have an idea, get really excited about it, pour on lots of energy into building the foundation for it and simply fizzle out as soon as the work starts to happen.
Sound familiar?
If I were to go back in time and have a talk with younger me, I would tell him this: everyone will tell you to focus, to put your head down and get shit done. It's important that you do, but the step before focus? Planning.
You can focus all you want, but remember that if you have nothing to focus on, you're basically ramming your head into the wall and hoping that something comes out for you to focus on. You need to be able to wake up in the morning and say "Alright, today is awesome, here's what I need to do for today." because you've planned the entire thing out months and months (maybe even years) in advance. After all, how can you put your head down and focus if you're just making it up as you go along?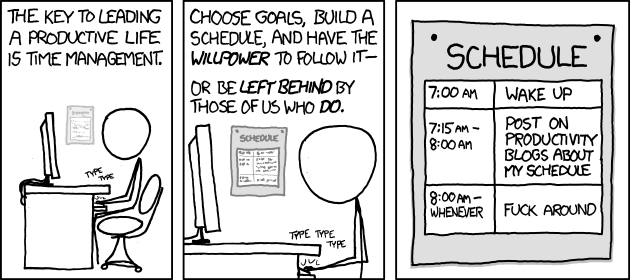 From: xkcd – Time Management
I recently left my job (despite my short time there) with one goal in mind: build something. As vague as that sounds, I wanted the freedom to work on something fun and challenging, that puts food on my table, at my own pace, my own schedule, on my own terms. That's the long term goal.
To get there, however, I need three things: the ability to build, the ability to design, and the right ideas to build. Given that, I'm in the process of creating a three month curriculum for myself to become a better developer (I'm currently terrible), a better designer (couldn't design my way out of a box), and to spend ample time creating a process to brainstorm the right ideas to build. In addition, I've set a demanding set of goals that I must accomplish by September of 2013, exactly one year from when I start my curriculum.
The important part of this whole process is that given the long term goal (build something fun and challenging, put food on the table), I created a goal for the medium term (one year), and then I created a month-by-month set of goals that incrementally get me to the goals I set for one year, which then spawned a week-by-week set of goals that get me to the monthly goals.
At the very worst, I will have given myself plenty of time to learn new skills, hone my craft, and take a serious crack at "building something." After all, now that I know what I need to do for the next year, the next logical step?
Focus.